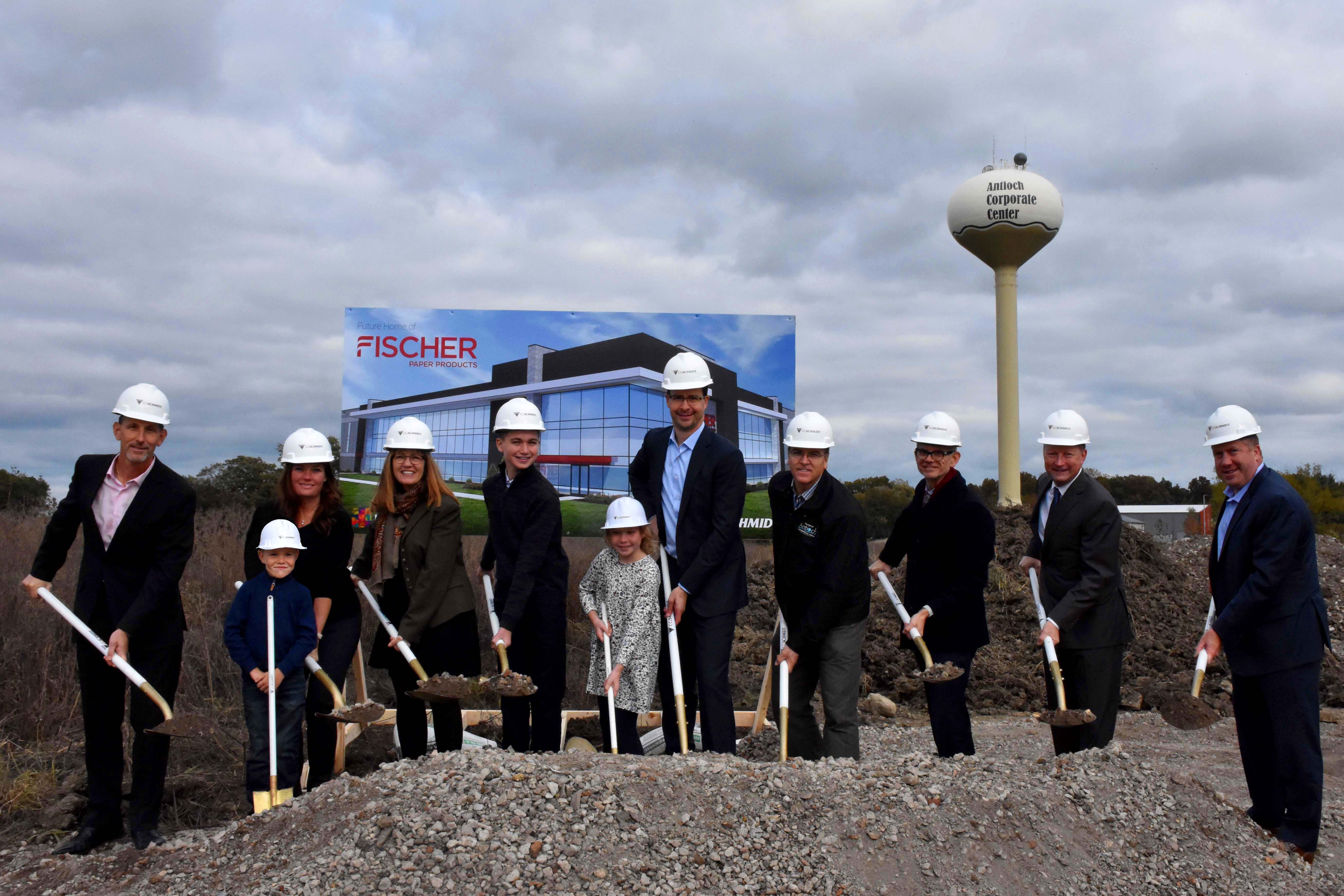 Fischer Paper Products Breaks Ground on New Headquarters
Antioch, IL – Fischer Paper Products, an Antioch-based paper packaging manufacturer serving the foodservice industry, broke ground on its new headquarters on October 17, 2019. The groundbreaking ceremony took place at 1301 Gregory Drive, the site of its future state-of-the-art manufacturing facility.
Fischer Paper Products is a family company with over 45 years of experience in manufacturing and supplying high-quality, food-safe paper products.  Antioch's Mayor, Lawrence Hanson, expressed, "The Village of Antioch is very happy that we were able to work with Fischer Paper; keeping them in Antioch is extremely important to the future of our Village.  Fischer is a company who has been an integral part of our community and our employment base for three generations."
The new 162,000 square foot building will merge Fischer's two current locations into one facility.  Joshua Fischer, the company's president & owner, stated, "Our new facility will bring our whole business together under one roof, helping streamline processes and building an even stronger team dynamic.  We are using this opportunity to invest in new products and technology, and look forward to continuing to be a valued partner for our clients for decades to come."
Kevin Considine, president and CEO of Lake County Partners, also sees the connection between Fischer Paper Products' success and Lake County's commitment to workforce development.  "Lake County continues to be the location of choice for advanced manufacturing because we nurture the specialized skill set needed to fuel the industry in the modern age. From innovative programs in our high schools, including those at Antioch High School and the Lake County High Schools Technology Campus, to the Mechatronics program at the College of Lake County, our workforce is prepared to hit the ground running."
CG Schmidt (Construction Manager) and Partners in Design (Architect) will be managing the construction and designing the architecture of the new facility, respectively.  Fischer Paper plans to be moved into the facility and begin operations there during the summer of 2020.

Since 1972, Fischer Paper Products has been supplying the foodservice industry with high-quality, food-safe paper products—including specialty bags, wraps, liners, napkin rings and more.  With three generations of manufacturing and supply chain experience, the company brands and customizes food packaging to the needs of their customers and provides an unbeatable customer service experience in the process.  Fischer Paper Products does the little things that make all the difference—delivering cost-effective solutions with short lead times that customers can count on.  For more information, visit www.fischerpaperproducts.com.
CG Schmidt, a family-owned company since 1920, is a leader in quality construction management, general construction, and design-build services with offices in Milwaukee, WI and Madison, WI. The company serves the markets of corporate, industrial, education, healthcare and community service. For more information, please visit the company's website at www.cgschmidt.com.
Founded in 1991, Partners in Design Architects has become the leader in delivering creative, functional and attractive design solutions for their clients. The team's ability to forge successful relationships with clients, consultants and contractors has brought steady growth and an excellent reputation as the premier architectural design firm serving southern Wisconsin and northern Illinois. For more information, please visit the company's website at www.pidarchitects.com.