Fischer Paper Products Celebrates Grand Opening of New HQ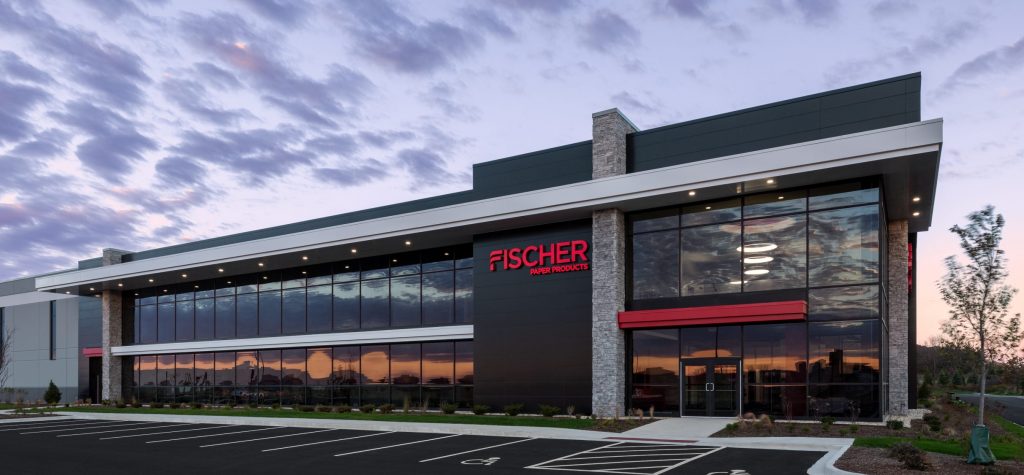 Antioch, IL (INSERT DATE) – Fischer Paper Products, a long-standing Antioch company providing paper packaging to the foodservice industry since 1972, is celebrating the grand opening of its new headquarters and state-of-the-art manufacturing facility located at 1301 Gregory Drive in Antioch.
The new 162,000 square foot building merges Fischer's two current locations into one facility that remains in Antioch, where the company was founded. As a thriving and growing third generation company, Fischer is committed to having small company values with big company aspirations.
A family company with nearly 50 years of experience manufacturing and supplying high quality food-safe paper packaging, Fischer Paper Products is seeking more than a dozen qualified individuals to join their existing team of 100+ employees. The company's expected growth will increase its workforce 10 percent each year for five to 10 years.
"Bringing together our entire business under one roof has been an important long-term goal for our company that will result in streamlined processes and a stronger team dynamic. To see it all come together as one cohesive unit has been much anticipated and truly moving," says Joshua Fischer, president & owner of Fischer Paper Products. "The new products and technology that we have incorporated into the facility will not only benefit our clients, but our employees as well. We look forward to seeing the positive effect that this new building will have on our business and the Antioch community."
Antioch's Mayor, Lawrence Hanson, expressed, "We have appreciated the chance to work with Fischer Paper to launch this project. It has been exciting to watch the new building take shape, knowing it will create cutting-edge space for more high-quality jobs right here in Antioch."
Kevin Considine, president and CEO of Lake County Partners, also sees the connection between Fischer Paper Products' success and Lake County's commitment to workforce development. "Lake County has the talent that growing manufacturing companies like Fischer need to take operations to the next level. The Lake County Workforce Ecosystem—which includes our partners at Lake County Workforce Development, the College of Lake County and the Lake County Tech Campus—provides a built-in support system that helps businesses leverage resources and fill positions."
Not only is Fischer a thriving business bringing growth to Antioch, but they are also an organization dedicated to supporting its surrounding local nonprofits including the Northern Illinois Foodbank and Open Arms Mission.
Visit www.fischerpaperproducts.com to learn more about Fischer Paper Products and its new facility, and www.fischerpaperproducts.com/employment-opportunities for available job openings.
About Fischer Paper Products
Since 1972, Fischer Paper Products has been a supplier of paper packaging to the foodservice industry. With three generations of manufacturing and supply chain experience, the company offers branded and customized bags for restaurant and convenience store chains. In addition to manufacturing pinch-bottom specialty bags, Fischer is launching a line of flat-bottom, paper handle carryout bags in 2021. Located in Antioch, Illinois, Fischer Paper Products is committed to perfection—delivering flexible, cost-effective solutions with short lead times that customers can count on.
###
Media Contact:
Foodmix Marketing Communications
on behalf of Fischer Paper Products
Trisha Teckenbrock
(630) 366-7515