Improvements for Everyone at Fischer's New Facility
To get the excitement rolling for our big move into a new headquarters next month, let's dig deeper into the upgrades and new amenities that the entire team will benefit from.
The move into Fischer's new building will begin mid-August, starting with relocating the Waukegan team and moving all inventories of raw materials and finished goods. We will then proceed to our Antioch manufacturing plant, department by department, and machine by machine, in order to keep Fischer fully operational as we consolidate our people and assets. We expect the entire company to be moved into the new facility by mid-September according to plan.
The new building measures 163,000 square feet, which is three times bigger than the current Antioch building. The footprint of usable space is even bigger as 2nd floor mezzanine adds an extra 12,000 square feet of office space.
In the production area and warehouse, the ceilings are 30 ft tall and pant walls have windows to provide natural light in the manufacturing and warehouse areas. High visibility daylight LED lighting will be installed throughout the whole facility for a comfortable, well-lit production space. Automatic on/off sensors will save on energy usage for the lights as well. The whole building is fully heated and air conditioned using an industrial HVAC system with more than 12 unique zones to maximize employee comfort.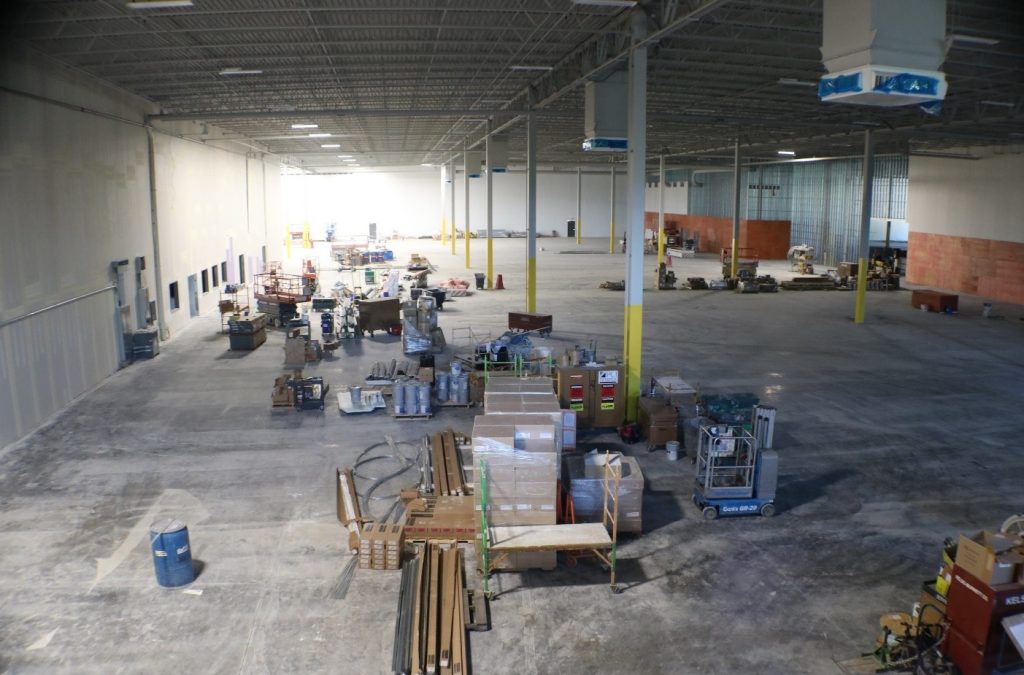 Safety and security systems will be upgraded as well. The front foyer will be a more comfortable area for visitors arriving for meetings and provide a check-in area to identify them prior to entry. A security camera system will be installed throughout the facility and in the parking lot to ensure the safety of our employees. Finally, our key card security system will provide access for each person according to their position, for ease of entry to the areas of the building where they need to be, when they need to be there.
One upgrade that will be sure to make everyone happy is ample parking in our own parking lot.  Parking has been a big inconvenience at the Ida facility as the company outgrew the number of available parking spots over the years. The new facility will have over 140 parking spots convenient to the various entry doors, so remote parking will be a thing of the past.  A number of high-efficiency LED streetlights will provide ample lighting and security for night shift employees.
Lobby Area
A 2-story, 1,200 square foot grand entrance and reception area is going to be the first impression that greets our guests at Fischer Paper Products. Surrounded fully by glass walls overlooking fields and trees, the view combines the best of the surrounding country as you enter the new workspace.
Through the reception area and lobby, people will have access to:
A designated waiting area for guests
An elevator to the mezzanine for those who need a little extra help
A coffee and beverage bar
Easily accessible restrooms
Employee Common Areas
One of the major goals for the new facility planning team was to make sure to have larger, more comfortable areas for employees to take breaks and enjoy their at-work meals. Fischer's current facilities have limited spaces that are cramped, so the list of upgrades is impressive:
A first-aid/sick room for unwell employees to take a break
Large locker rooms with benches, more space, and privacy for changing
A private room with a shower
1st floor employee breakroom is 2,000 square feet

Seating for 45-65 people
5 vending machines, 4 fridges, 4 microwaves

2nd floor employee breakroom is 800 square feet

Seating for 15-20 people
2 fridges and 2 microwaves
Warehouse and Shipping/Receiving Area
Shipping & Receiving leadership was involved in the process of designing the layout for the warehouse and shipping/receiving areas from the start. Thought was given to what will make the shipping and receiving processes more efficient and more pleasant in an area that is often overlooked.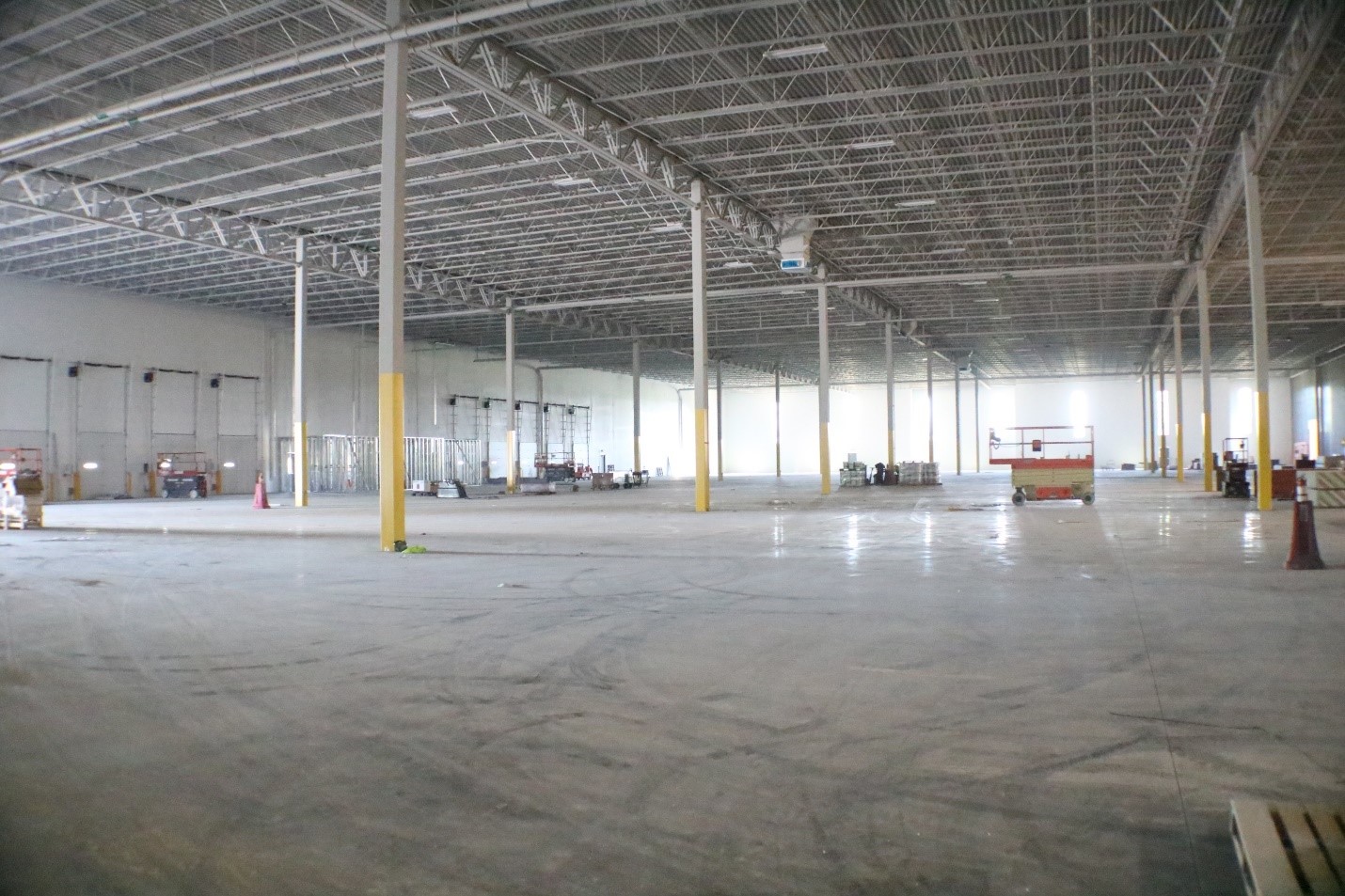 From much bigger warehousing space to brand-new double-deep racking, the warehouse will have:
Designated shipping office space
A conference room
10 dock doors (twice the current warehouse number)
All docks will have powered doors, plates and trailer locks
Designated truck driver check-in and waiting area at a secured vestibule in the warehouse
Newer double-deep reach trucks with cameras
3 additional walking riders to cover the extra doors are also planned

Operations and Maintenance
In the 65,000 square foot manufacturing floor, there will be designated areas for production, maintenance and pre-press departments.
Production:
Production supervisor office
Production managers office
Conference room with an audio-visual system
Storage and custodial rooms
21 production line bays
More room and more space in the front and back of the machines
Bigger aisles supporting an improved and streamlined material flow plan
Improved flow makes it easier to supply paper rolls to the production floor
Maintenance and Pre-Press:
Technical staff office for engineering, maintenance and printing personnel
A 4,000 square feet maintenance and machine shop area
2,500 square feet of pre-press area
Storage and custodial rooms
2 ink cleanup rooms on manufacturing floor
Front Office
Connected to the lobby will be front offices for Finance, Customer Service, Sales, Sales Support and Marketing personnel. The office area will have floor to ceiling glass walls so natural light will be plenty. On top of that, high ceilings will give a spacious and airy feel to these areas.
The front offices will have:
13 private offices and huddle rooms
28 workstations (cubicles)
A dedicated HR area with offices and a meeting room
Storage and IT storage rooms
Custodial room
Easy access to the break room and common areas
The finished space will be enough for Fischer for the immediate future, but there is an additional 1,200 square feet additional space on the 2nd floor for our future growth in addition to the 5,000 square feet of space that could be used as office expansion space if there is need for it in the future.  (That is in addition to the land available for growth of the production floor on the north side as well.) The planning team made sure that this new facility is a place that Fischer can enjoy and grow into for another 20 years.
We are actively seeking new team members in many areas of the business, including Operators for the new bag machines for our handle bag line and many others.  If you are looking for employment, or know someone who would like the opportunity to work at a growing company like Fischer Paper, please refer to the Employment Opportunities page to view some of our open positions.