Branded and Custom Packaging
Put your paper packaging to work with smartly tailored bags, wraps, and more from Fischer. We're the customization experts, helping our customers add value to our products with custom printing, innovative construction, and smart bundling solutions.
Wrap Your Products in Success with Custom Packaging
You've spent months and who knows how many dollars perfecting you latest product. What you need now is a custom packaging solution designed to promote your brand, protect your goods and stand out on the shelf.
Dress Up Your Brand!
A great food experience is in the details. And taking care of the details is Fischer's specialty. For more than 45 years, we've helped operators make every bag and wrap work harder and sell more.
Customization Options
How It Works
Branding and customization is our specialty at Fischer. Want to feature your logo on one of our stock specialty bags?  Need bundles of small quantities of bags for co-packing with frozen foods?  Perhaps you want to design a compostable bag that features the food inside with a transparent window panel?  There are hundreds of little ways that we can customize our packaging to your need.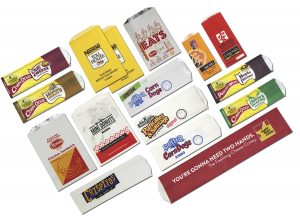 Add your brand to any product in our catalog
Build customer loyalty the cost-effective way—with custom printing that brings your brand to life. Our high-quality presses let you make any stock item in our catalog uniquely yours. And Fischer's short lead times mean featuring new promotions and seasonal or limited-time offers is a snap.
Customize any item's fit, function, or fulfillment
Put your best food forward with customized packaging tooled to your specific needs. Fischer's production team can help you adjust any stock item's cut, construction and materials for peak performance. Or create your own packs and bundles for added efficiency and convenience on the sales floor.
What Can Be Customized?
Custom Order Requirements
All printed jobs, for branded versions of our stock products or custom prints, will be quoted based upon the job requirements.
For specialty materials, products with value-added pack outs, and other products requiring specialized services, minimums will vary and will be quoted upon request. Drop shipments of partial orders are available upon request as a service to our distributors, with freight charges prepaid and added to the invoice.