French Fry Bag #607
Fries & Sides
Commonly Branded
Printed with Stock Design
Case Information
Master Case
| Case Count | Weight | UPC |
| --- | --- | --- |
| 5M | 31.5 | 721970002749 |
| Carton Dimensions | Unit Cube | Pallet Pattern |
| --- | --- | --- |
| 24 x 18 x 12 | 3.00 | 4L/5H |
Inner Case
| Case Count | Weight | UPC |
| --- | --- | --- |
| 1M | 6.3 | 721970002756 |
Carton Dimensions
12x10x6
How to Order
Fischer Paper Products manufactures products for tax-exempt sale through distribution, not direct to the end user. We also work directly with food manufacturers, self-distributing chains and co-ops, and other businesses who may make tax-exempt purchases of our product. Please contact us for more information about becoming a distributor of our products, finding a distributor in your area, finding an online resource for purchase, or to discuss your particular packaging application and need for our products.
Place an Order
Contact us to learn more about where to find our products.
Similar Products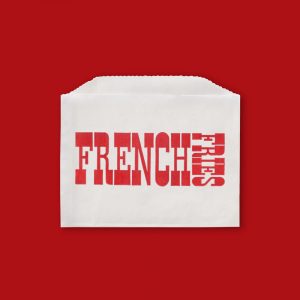 French Fry Bag #601
4.5" x 3.5"
French fry bag holds 1.5 to 2.5 ounces of French fries and is the perfect size for kids' meals.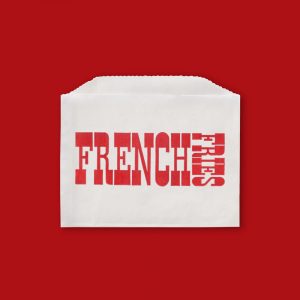 French Fry Bag #601-FF3
4.5" x 3.5"
Our smallest printed fry bag prevents oil breakthrough and perfect for kids' meal.
Customize your packaging.
Customize your packaging.
Whether a new design, a custom size or a new material, Fischer can help you move from stock to special… very special!  High-quality print that captures the eye, a window panel that shows off the product inside, recyclable and biodegradable materials – choose features that make your packaging reflect your brand and your business.